Good day!
Propcafe proudly brings to you guys an overview of Brisbane property scene just for your benefits on whats going on other parts of the world. As many will ask, "Why Brisbane?" and "why not Melbourne, Sydney or other cities in Australia?"…well the short answer is because we can. Joke aside, Brisbane is selected based on the following factors:-
– Editor's knowledge of the city
– Brisbane has the highest migration move in rate for Australia in the past few years
– Reasonable house price index, when compared to Sydney, Melbourne or Perth and pretty close to Klang Valley if no conversion.
– A city that have capacity to grow, and currently its the 3rd most populous city in Australia, with 2mil population on brisbane and its greater brisbane area.
– top 16 the most livable city in the world, as compiled by The Economists. We believe Penang is within the top 20 as well.
As compared to other more recognised cities of Sydney and Melbourne, Brisbane is seated on Brisbane River as opposed to sea fronting landmark and its the capital city of Queensland with milder weather throughout the year. Gold Coast (a favourite tourists destination) is just 72kms south of Brisbane CBD (Central Business District).
Greater Brisbane Map
Brisbane City Map
Just for your information, as foreigners (neither australian citizens nor permanent residents status), you are allowed to buy ONLY new properties directly from developers, and upon subsale, you must only sold to australian citizens or permanent residents. This is Australians ways to curb property speculation we guess. We believe capital investment of certain amount is cap tested.
In this article, we will bring to you guys 4 distinct categories of properties curently available directly from developers, i.e. Inner city iconic highrise, Inner city highrises (River facing and inner city facing), city fringe lowrise and city fringe landed. Please do note that Queensland adoptes "build then sell" method therefore usually a brand new off plan project will be available til completion generally, as opposed to Klang Valley where people make beeline to queue for days for off plan new launches. Many of the projects discussed here have been in the market for the last 1-3 years and developers are still selling them. Buyers usually adopted the wait and see attitude, althought when buy off plan, you only need to pay 10% deposit (note: someone told me that some developers do accept bank guarantees) and nothing else until the project is completed (not even interest), however banks will usually do a valuation at the completion date and if the valuation is lower than the purchase price, potential buyers aren't able to secure enough loan to cover the purchase. Therefore many australians perferred to wait and buy only upon completion.
Another reason is that most australians are nomads. They travel around for work and many dont stay in one place for life. Therefore they usually more likely to rent than buy. And they also have lower saving rate, hence makes renting a place more "affortable" in terms of their financial planning. Also its the Australian dream to own a piece of land and build own home, or move to the country or sea side, althought these days, these dreams are harder to come by with the soaring real property prices.
Another observation for property launches here is that advertisers or property developers only use ACTUAL site surrounding pix for illustration…unlike in malaysia where developers are so over-painted the surrounding with trees and forest (even for inner city condo) of the actual building it feels like you buy into heaven. Most condos launched here has expected view pixs of your condo facing. Also as for floorplan, most developers provide you with sqm for each individual room, not just one sqm for the entire floorplan. As typical buiding, kitchen cabinets, airconds and sanitarywares are all included in the selling price.
 INNER CITY ICONIC HIGHRISE
INFINITY BRISBANE
http://www.meriton.com.au/properties/infinity-apartments-brisbane-cbd/
Infinity will soar 81 levels/262 metres high and boasts views unmatched. It looks like a black needle in the city skylight and now its completed up to 75 storey at the time of writing.
Infinity will be Brisbane's tallest residential tower upon completion. With 81 levels of contemporary living and 549 meticulously designed apartments, this state of the art development will take your inner city lifestyle to a whole new level.
The breathtaking architectural design of Infinity means that each apartment boasts fantastic views while featuring the highest quality fixtures and finishes for which Meriton is renowned. Infinity is expected to be completed by early 2014.
Set on the north side of Brisbane's CBD, Infinity encapsulates what city living has to offer including easy access to shopping, transport, fine dining, business and professional services. Situated only metres from the Kurilpa foot bridge, you're only a short walk to galleries, performing arts venues, libraries and fantastic restaurants and cafés.
Where your new life starts and the horizon never ends…
NOW SELLING
PROPERTY TYPE
PRICE
1 bedroom
1 bath, levels 34-40
$502,000 – $508,000
1 bedroom + study
1 bath, levels 34-40
$496,000 – $514,000
2 bedroom
2 bath, 1 car space, levels 34-64
$657,000 – $750,000
2 bedroom
1 bath, 1 car space, levels 52-63
$643,000 – $676,000
3 bedroom
2 bath, last remaining, level 56
$995,000
Another iconic building on sale now is Hilton Surfers Paradise, Gold Coast (www.surfersparadiseresidences.com.au).
INNER CITY HIGHRISES – ITS ALL ABOUT THE RIVER 
River, River, River…..
The next most priced or prized properties in Brisbane will be its iconic riverview apartment project. Literally most riverside projects or apartments will carry minimum AUD50 to AUD100k more expensive than the inner city development and those units facing the brisbane "mighty" river will again, premium on top of the non riverview units.
Bear in mind that almost all apartments/condos in Brisbane come with sizable outdoor balcony, contrary to the malaysian highrises scene where balcony is sort of optional….between haters and likers.
PENISULA (www.tdd.com.au)
Penisula is situated at Kangaroo point, the once pinacle place for outer inner city living. However there are more 70 to 80s buildings these days as the focus of developments have shifted elsewhere. Nevertheless, Kangaroo Points still have its glory, being just a Story Bridge away to the city.
The Penisula claims to have secure undercover carpark, luxury finishes throughout, 25m heated pool n gym, 3km to brisbane CBD, protected river views (meaning can never built-out), low corporate fees (maintenance fee in malaysia) and 300m to city cat ferry (river taxi/boat ride services).
1 bedroom (plus study) from AUD370,000 (non riverview)
2 bedrooms from AUD435,000 (non riverview)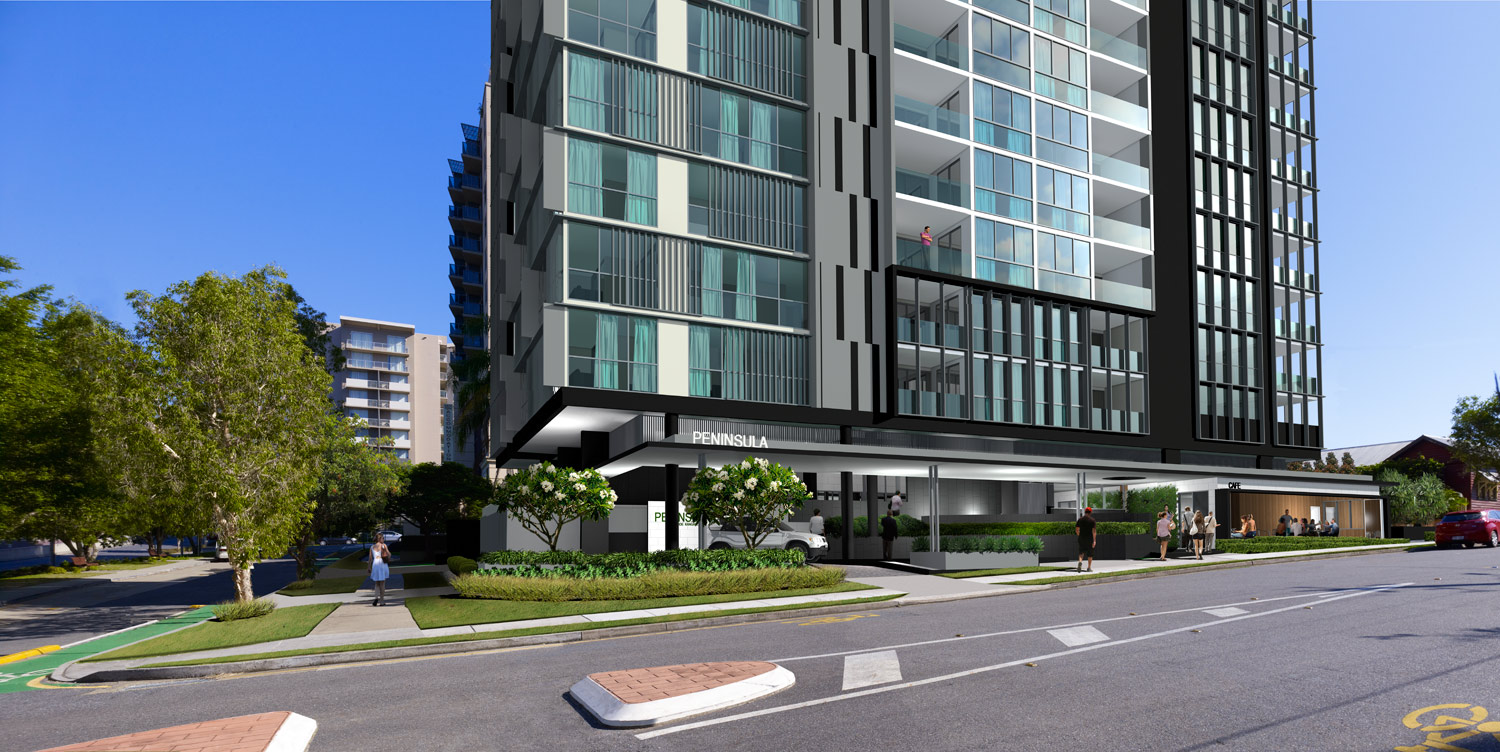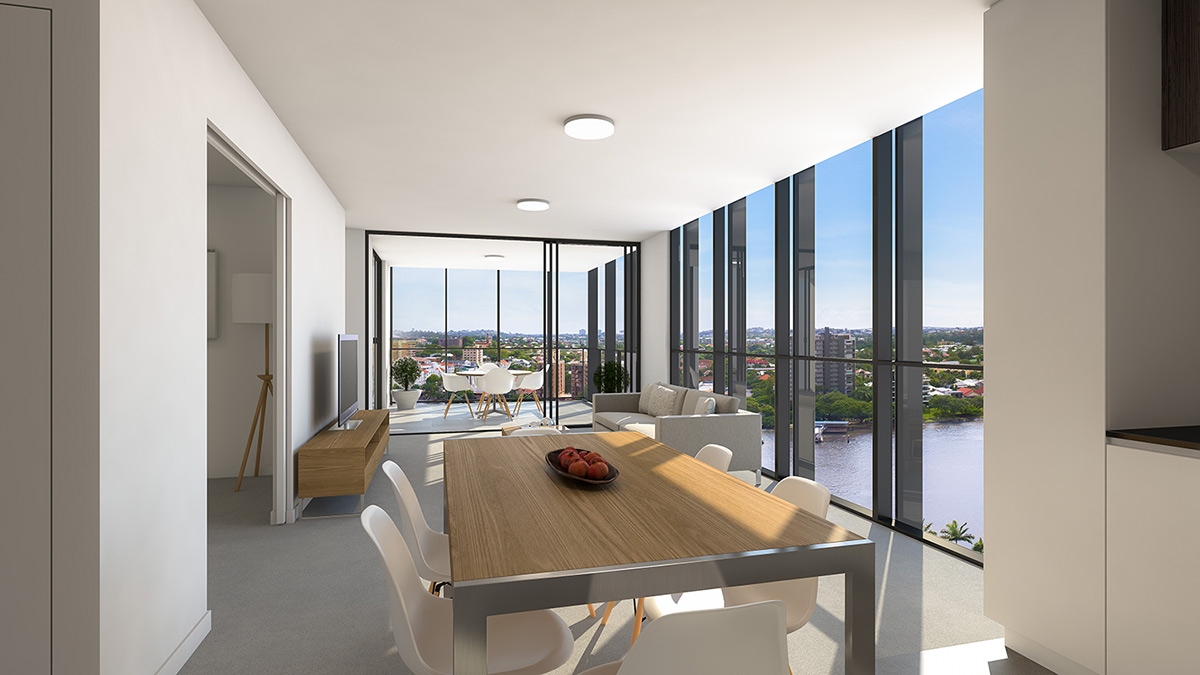 For other riverview highrises, you may check out Hamilton Harbour (www.hamiltonharbour.com.au), The Promontory at Yungaba (www.yungaba.com.au), Vida West End (www.vidawestend.com.au), Promenade Hamilton (www.portsidewharf.com.au).
INNER CITY HIGHRISES (NOT NEAR RIVER)
 There are many developments for this category. Generally highrises that no taller than 30 storey dotted around the city and fringe.
THE MILTON RESIDENCES (www.themilton.com.au)
One of Brisbane's most exciting residential and lifestyle addresses, this vibrant new community incorporates 298 luxury apartments [ 30 levels ], a contemporary foyer and exclusive club lounge furnished with Giorgio Armani's Casa range, resort-style amenities, premium commercial suites and niche retail, in the exclusive inner city suburb of Milton. Price from AUD400,000.
Features and amenities:-
– 1.5km from Brisbane CBD
– 30 levels with 298 one, two and three-bedroom apartments
– Direct access to Milton railway station
– Resort style amenities, commercial office space and a ground-floor retail promenade.
These are some of similar highrises:- Skyview Apartments (www.skyviewapartments.com.au), Belise (www.belise.com.au), UrbanEdge Apartments @ Kelvin Grove (www.urbanedgeapartments.com.au), The Hudson@Albion Mill Village (www.albionmill.com.au), The Green@RNA Showground (www.showgroundhill.com.au), Mowbray, East Brisbane (www.mowbrayeast.com.au), The Green (www.thegreenbrisbane.com.au), M&A (www.mac-ann.com.au)
INNER CITY LOW RISE
As prime sites getting fewer, the current trend for developers is to acquire the site of single or multiple existing Queenslander houses and rebuild as low rise apartment block. These sites usually available just outside CBD and developments usually have 6 to under 50 units for sale and generally the height of these development will not be greater than 6 storey.
Addison Quays Bulimba
24 Apartments and 18 Marina Berths on the Bulimba Reach……..
Addison Quays when complete will be a quality low rise 3 storey building developed on the Riverfront in the heart of Bulimba.
Located less than 2.5km from theBrisbane CBD, Addison Quays retains all the characteristics required to exemplify the very best that waterfront living has to offer, together with a choice of adjoining marina berths for the boating enthusiasts.
Being one of the last well positioned waterfront sites which exist in Bulimba; Addison Quays is set to capitalize upon an underlying demand for new residential product in the wealthy Bulimba precinct.
Designed by high profile architects Cottee Parker the project will span a total of 24 residential apartments and featuring a mix of one, two and three bedroom apartments.
Owners can also choose from a total of 18 Private Marina Berths ranging in size from 12m to 20m in length.
Addison Quays will recognise direct river frontage, with views toward Teneriffe and will promote walkability to well-known Oxford Street precinct.
The project is also immediately abutting the newly completed Bulimba Riverside Park.

18 Marina Berths ranging from 15m to 20m.
Pool (8m length) recreation, BBQ and entertainment area.
Ducted Air-conditioning.Ceiling fans to living area, bedrooms and external terraces.
Located in the prestigious area of Bulimba on the last remaining absolute waterfront site for multi unit dwellings on Addison Avenue.
Designed by award winning COTTEE PARKER with efficient apartment design to maximise stunning River, City and/or Park views. Developed by one of Queensland's largest construction companies DE LUCA.
Central location, 2.5km to Brisbane Central Business District. Less than 250m to City Cat terminal and bus stop.
Each apartment has a secured storage lock-up available.
High quality fixtures and finishes with European appliances.
CCTV, High speed internet (via broadband) access, wired for Pay TV, Smart lighting system.
Secured bike storage room in basement. 2 x seccure carparks per apartment.
2beds, 2bath, 2carparks and study nook from AUD795,000.
For similar developments, please check Bulimba Sky (www.eplace.com.au), Riverpoint on Ferry (www.riverpoint.com.au).
LANDED – OUTSIDE CBD
Unless you are getting subsale, there are hardly any new landed within the 10kms of Brisbane CBD. Larger land+build own estates are generally outside 10kms of CBD. Generally Australians are more keen to buy a piece of land (generally size from 600sqm up) and build own single or double storey homes. However there are not many developers building ten of thousand homes (or large estate or township) when compared to Malaysia. For landed, generally there are about the size of 20 homes in an gated development, or townhouses or a series of few units terraces. Sinnanon Farm is one of these examples.
Sinnamon Farm, Sinnamon Farm – Western Suburbs Gated Community (www.sinnamonfarm.com.au)
Sinnamon Farm is a gated community of 29 homes surrounded by a 4000sqm Private Residents Park, Orchard, Pool and other recreational facilities.
All homes are architect designed,  have luxury finishes and have been designed to take advantage of the elevated north-east aspect of Sinnamon Farm.
The following House Types are available within Sinnamon Farm:
2 Bedroom + Study Terrace Homes
3 Bedroom Terrace Homes, both from AUD498,000
4 Bedroom Freestanding Homes from AUD660,000
3 & 4 Bedroom Heritage Homes
200m walk to shopping, dining and local amenities
Neighbourhood of tree lined streets and parklands
Located on a network of river pathways
Choice of leisure pursuits on site and close by
Sinnamon Farm is your opportunity to live a premium lifestyle in an area you will love.
You may check out Nottingham Square (www.avjennings.com.au)
Congratulations if you have read so far. Thank you.